The new
Burckhardt
We have a long and eventful history. By continuing to evolve, we can meet our ambition to shape the future. Our new name and new design send out a powerful message.
Our new name
Simple, clear, concise
The name "Burckhardt" represents the origins of our company. The family behind that name has a history stretching back to
the 15th century. In 1951, we founded the Burckhardt Architekten SIA architectural office. In 1973, this was rebranded as Burckhardt+Partner. Exactly 50 years later, we have made the decision to continue under the name Burckhardt.
The new name focuses purely on "Burckhardt'", its two syllables making it extremely quick and concise. The unusual spelling with "ck" and "dt" also make it something of an exception. With this simplicity and distinctiveness, we are carrying the spirit of our company into the future and continuing a story that is rich in tradition.
Our new logo


We offer a sense of orientation – that is the service we provide. As architects we love to whittle things down to the essentials, and that is the approach we took to our new corporate design. Our new word-and-design mark prioritizes clarity. Like a stamp, it places our name front and center.
The corporate design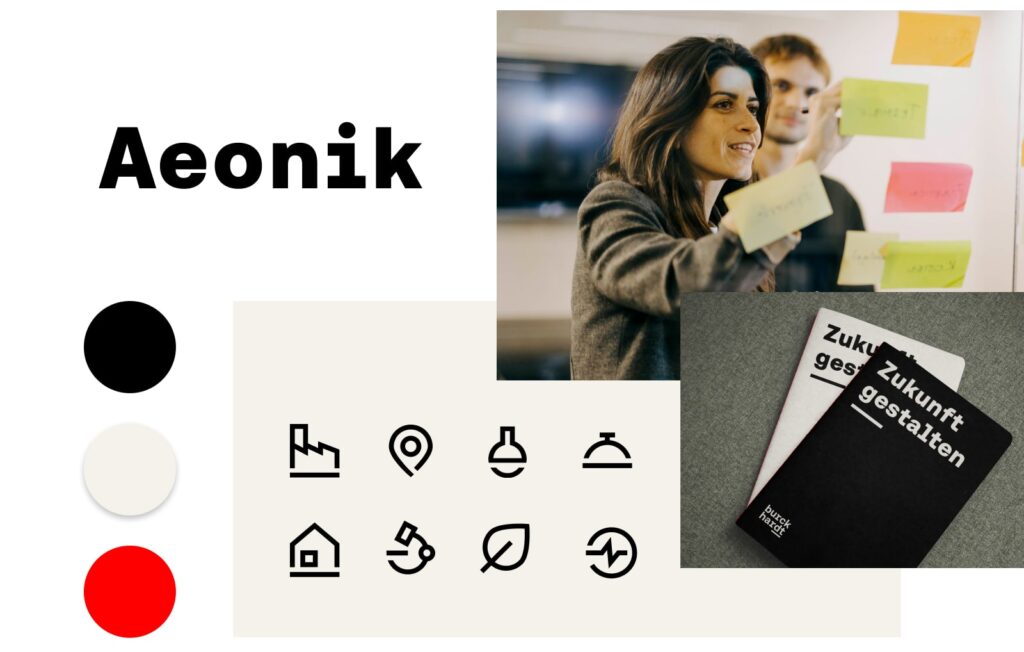 Three questions about the new brand
Rebranding is a process that leaves space for the great questions of the future. Wolfgang Hardt and Samuel Schultze, Co-CEOs of Burckhardt, have responded to those questions.
New name, new design: what does this mean to you?
The nice thing about our new name is that it now refers to all our companies, and it does so quickly, clearly and succinctly. The same is true of our new design, where the name is transformed into a powerful symbol projecting confidence and character while standing out from the crowd. Both the new name and the new design bring everyone in the group of companies closer together and strengthen us as a team. We love it!
What is the great challenge of our time in architecture and construction?
Sustainability! Building according to this maxim means taking a targeted and consistent approach to the resources available to us. Energy use must be completely rethought and reduced to a minimum. Sustainable architecture means creating buildings that fulfil their function across successive generations while meeting future requirements. It is an enormous task that challenges us in all areas.
How is Burckhardt adapting to this new world?
Sustainability in construction is a highly complex topic that can only be tackled if the entire team is curious, attentive, and ready to adapt. We see ourselves as a company that not only has more than 70 years of history behind it, but is also constantly evolving. We see digitalization as an opportunity and continue to think sustainably. Our vision is for every building to serve society and strengthen our sense of togetherness. We can only fulfil it if we take sustainability seriously. And that is precisely what we are doing.